Assessing Organizational Effectiveness and Readiness for Change
"Benchmarking Our Starting Point"
A significant component of our client engagements require assessing the social, technical, and structural (STS) interactions of individual, work group, or division characteristics as they mutually relate to the organizational challenge at hand.

Sounds abstract . . . . . so what does it mean?

These characteristics generally entail organizational behaviors attributed to biological, psychological, behavioral, and cultural and climate traits; those tools, processes, techniques, and methods that result in products and services; and, the framework and interface within which the social and technical domains interact.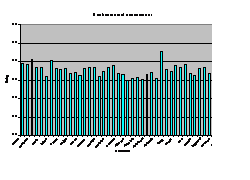 Our assessments provide an independent viewpoint, focusing on the issues and interventions using specific education, training, and experience with STS systems. Understanding your organization's key attributes, drivers, and system dynamics better enable you to overcome challenges in five major areas:
Assessing readiness for change/ implementing change and facilitating transition
Getting organization sectors to work more effectively together
Coaching executives, managers, and employees to perform their roles more effectively
Identifying and overcoming barriers and derailers (e.g., communication and workflow)
Identifying, addressing, and resolving conflict between/ among individuals, groups, and departments
These five challenge areas are vitally significant to the effective focus, functioning, productivity, and performance of nearly any organization. Systemic STS assessment results enable executives to clearly understand the fundamental, explanatory, and contributing causes of an organization's condition . . . . . . this knowledge in turn is used to develop the most practical, timely, and cost effective interventions needed to enact and sustain the desired change.

At WorkPlace Cornerstone Group, we can facilitate the effort needed to assess organizational performance, effectiveness, and readiness for change.

Our clients have realized benefits that have: