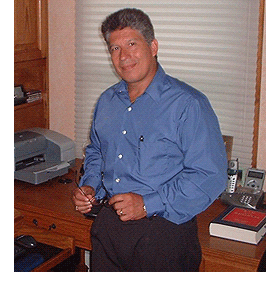 John Godinez is a founding Principal in WorkPlace Cornerstone Group, a consulting practice that focuses on organizational change and transition, team building dynamics, and individual, group and organizational interventions. He is a human resources professional with more than 25 years experience in the nuclear power industry in disciplines that have entailed organizational effectiveness, coaching, professional development, industrial safety, plant maintenance, and performance management and development.

He has comprehensive experience in the mechanical maintenance discipline, which includes training, planning and performance for maintaining system components for primary, secondary and backup systems used for power generation. Responsibilities included the supervision and safety of plant and contracted personnel, as well as project management.

Certified as an instructor, trainer and facilitator in the professional development arena, John has engaged his skills with all levels of an organization ranging from the non-exempt ranks to first line supervisor, middle management to executive management levels.

John's organizational consulting experience has focused on the development of workplace environments and programs, specifically in areas of Safety Conscious Work Environment (SCWE), Employee Concerns Resolution, and Industrial Safety. While on assignments to evaluate and provide oversight, John has conducted Root Cause Assessments, Investigations and extensive interviews with all levels of the organization. During the course of these assignments he has developed action plans to address identified "opportunities for improvement" along with facilitation to provide understanding and change.

In the classroom, Mr. Godinez has introduced and facilitated training programs designed to focus the human aspect (employee, spouse, and children) in managing change and transition, coping with stress, and developing personal resilience for identifying and achieving personal life and work goals.

Prior to his career in the utility industry, Mr. Godinez was in the United States Navy. While stationed on board several nuclear submarines, he worked in the communications field, where his responsibilities required a High Level Security Clearance for working with sensitive classified data and equipment. Other duties required that he meet the nuclear weapons safeguards criteria of the Personnel Reliability Program (PRP), and he participated in the Human Relations Council, an initiative to promote diversity in the military.

John has worked with all levels of organizations, and has been very successful in forming collaborative partnerships which has resulted in advancing individual performance and improving organizational effectiveness.

In addition to his occupational training and certifications, Mr. Godinez is pursuing an advanced degree in Business Management.




ACCOMPANYING QUALIFICATIONS / CERTIFICATIONS


FPI/ PII- Prevention and Reduction of Organizational and Programmatic Failures ® Root Cause Certification

Development Dimensions International DDI®- Certified Facilitator in Learning
Systems, (Create a high-performance environment, Increasing performance in
work groups and teams, Manage people's ongoing performance by aligning their
performance plan with organizational goals)

Pacific Institute- "IMAGINE 21- Fast Track to Change" ® Certified Facilitator

PEER REVIEW INC.- Peer Review Panelist Certification ®

National Inspection Corp NIC - Employee Concerns Investigator Certification

Millstone Nuclear Training Facility - Instructor/Trainer Certification

Nilsson Associates-"Setting the Winning Standard" Certified Facilitator

OSHA- Safety Associate Certification